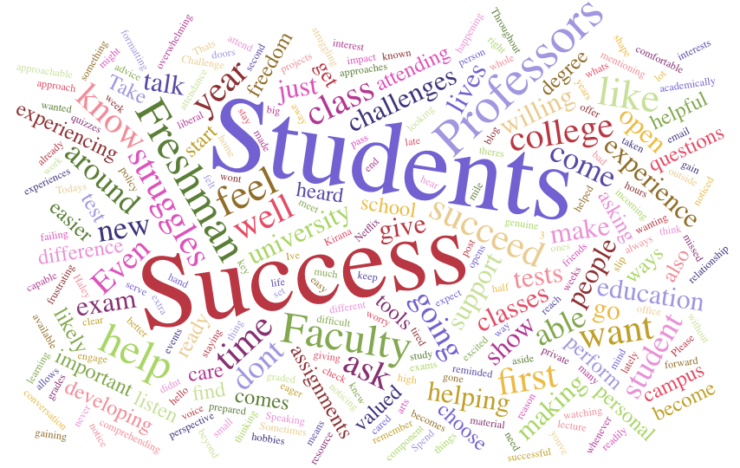 Today's blog post comes from Kirana Haley, a student at at private liberal arts university. It is so helpful to hear from our students about their experiences and to be reminded of the ways we can listen to and support those we serve! -Rachel
New Freedom
As the start of the new school year approaches, faculty are excited for incoming Freshman to come. Freshman year is a time that students are looking forward to because they are eager to be away from home, and they are ready to experience all of the "freedom" that college has to offer. Freshman are ready to be staying up late, watching Netflix whenever they want, making new friends, going out to different events and experiencing life on their own.
I have first hand experience of not doing well my Freshman year of college. Having professors who were open to helping me succeed and go out of their way for me, made all of the difference. The professors who were willing to get to know me, ask me questions, set aside time for me to meet with them for help and also were genuine people, those are the ones who helped me succeed my Freshman year and give me tools on how to better succeed for the years to come.
The Freshman Challenge
As the first week of classes start, professors are already giving out assignments, projects and even quizzes and tests. The first few weeks pass and the professors give out their first exam. Students don't always perform well on the first exam because they have never taken a college test before. As the second exam comes around, professors expect students to do well because they know the formatting of the tests and should be prepared. It is difficult when those first exams are graded, and it becomes clear that over half of the class is struggling. It can be frustrating to professors because they are wanting their students to do well. Faculty worry that students are not comprehending the material or that they will end up failing the class.
Speaking from a student's perspective, I ask that you keep in mind that Freshman are new to this whole "college thing!" Some students think they don't have to study much for tests, don't have to show up for class because there's not an attendance policy or that they can slip by, like they did in high school. Sometimes students even feel like their professors won't care if they don't come to class. Please check in on your students who are not attending class! Just mentioning to them that you missed them will make a big impact. I know that when I didn't show up for classes Freshman year, my professors would email me or reach out to me in person asking what was going on. It was helpful and I felt wanted and valued because I knew that my professors were thinking about me and were noticing that I was gone. It is also important to remember that Freshman have a lot going on, outside of attending classes.
Students Support
Students want to be heard and known. We want to feel like we have a voice and can approach professors about bad test grades, assignments or even challenges and struggles that are overwhelming.
The reason that students choose to go to a small university is because professors are able to take the time to get to know them and it is easier to have a relationship with you. Students want to feel like they can be heard by you and that you will help them succeed. Student success means more than just having students perform well academically. Faculty making themselves available for students and being willing to go the extra mile to help them succeed is a key component in student success.
Here are 3 ways to support your students:
Make yourself approachable: When students feel like you are easy to talk to, they are more likely to engage in conversation with you. When faculty have office hours, say hello to their students around campus, and stay around to talk with them after lecture, students will feel more comfortable being around faculty.
Take a personal interest in your students: Students who feel like their faculty care about them will more readily ask for help and will have an easier time being open. Ask questions about what is happening in their lives, ask about their experience on campus and their hobbies and interests. That will make students will feel valued and cared for.
Spend time helping students with their challenges and struggles: Students who know that they are able to talk with faculty about their personal struggles, are more likely to open up and find the help that they need. When students come to you, be willing to listen to them, give them advice, help them find the right tools to work through challenges and struggles. Even asking a student something like "I've noticed you've been tired lately, what's going on?", will show them that you notice their struggles and want to be a resource.
Developing Students
Professors, you are capable of making a difference in students' lives. It is important for your students to succeed, and without your help, they might not be able to. People choose to attend university to gain an education and a degree that allows them to become what they want and opens many doors for them. Throughout college, students are developing more as people, learning more about themselves, and experiencing things beyond just gaining an education and degree. Faculty are able to help students become successful and they are helping shape the lives of students. That's the power of education.