I bet you have some Dust Bunny Data at your campus. Don't act like you don't know what we are talking about. Dust Bunny Data is data that just sits around, unused, and collects dust. It took a lot of effort (and budget) to gather it, and the intention was that it would be a powerful tool to understand your students and inform your practices. But…no one ever looks at it.
That's a problem.
It's exciting to hear about all the data that schools are gathering to better understand students. But the killer is when we ask what they are doing with all that data. How is it being used, and informing student support? When the response is that nothing is being done with it- it is like a dagger in our data-loving hearts.  All that data…just….sitting on someone's hard drive or on a bookshelf. Year after year, it goes like this. Collecting dust. Creating dust bunnies. So much potential, completely wasted.
Here is how you know you have Dust Bunny Data:

Quantity over Quality – If the best thing you can say about your data is that you have a lot of it, it is highly likely that you have Dust Bunny Data. Unless you can tell me how it helps you, I am not impressed.

Collects dust – Data that just sits is useless. Enough said.

NOISY – You're so inundated with survey results, spreadsheets, and crosstabs that it would take a year to sift through and find an 'ah ha' moment.

In Solitary Confinement – Data that is captured, then held hostage…never given a chance to testify on its findings.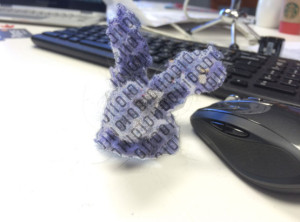 Don't get me wrong. We love data– and I bet you do too! It's a drug. We feel productive when we are gathering it…or are paying someone else to collect it for us. It makes us feel powerful…after all, "knowledge is power."  It makes us feel safe- when we are surrounded by data, we feel sure-footed as though our foundation is strong.

The opposite of Dust Bunny Data is Actionable Data. Data has to be shared with those who can act on it, and must lead to results that should be shared.
So, it's time to clean house. I hate cleaning house.
What do you have?
Make a list of all the data you have at your disposal. For example, consider the following:
Admissions data

Freshmen Surveys

Participation tracking

Student Assessments/Inventories

Student Information Systems

Learning Management Systems

Degree plans & transcripts

Exit Surveys
How can you use it?
Does it help you identify at-risk cohorts?

Will it help you craft effective Predicted Interventions for your students?

Does it give you information that will help you engage students?

How will you use it to inform your intervention strategies?

Who needs to know what you know?
Simplify and Commit
Pick one thing you measure that can powerfully impact your work and make a commitment to shape your strategy and engagement. Once you have successfully done this for one measure, feel free to add another.
Follow these steps and you will be well on your way to eliminating Dust Bunny Data from your life forever!