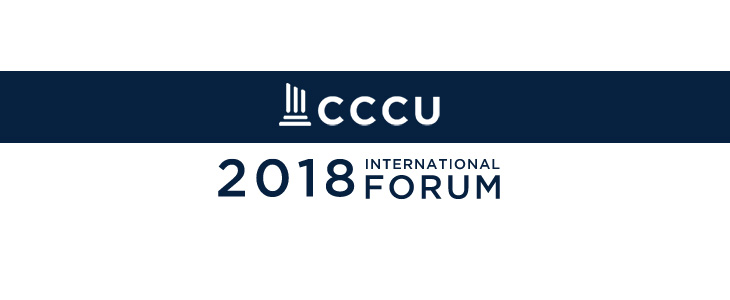 We are kicking off our 2018 conference season at CCCU's International Forum in Dallas, TX. Four of our team members will be in attendance: Matt Boisvert, Rachel Phillips-Buck, Rachel Elam and Loree Houghton. We look forward to catching up with familiar faces and meeting some new ones!
We're also excited to announce two of our partner institutions will be presenting at the conference:
Carrie Stockton, Dean of Student Success at Biola University, will be leading a presentation called, Retention Is Everyone's Business… That Is Much Easier Said Than Done (We Did It!).

Description: Retention and student support should be a whole campus initiative, but it can be difficult to integrate the myriad aspects of a student's life to formulate a successful and comprehensive support plan. By identifying the key touch points for a Biola student, and working to combine and share data that was previously siloed in either academics or student life, we were able to create a more connected campus and provide better support to our students. This session will include practical suggestions for any practitioner who is interested in creating a more holistic support system for their students.

Stacey Martin, Dean for Student Engagement at Hardin-Simmons University, will be joining colleagues in a joint presentation called, How I Made Half a Million Dollars by Supporting Students.

Description: Approximately 75% of students who leave college early do so in their first two years. This interactive workshop will discuss why the first years of college are a crucial time for risk of departure and more importantly, as faculty at Christian institutions, what can we do to encourage persistence to graduation. Two campuses will share case studies to increase understanding of what it takes to keep students on our campuses. Data and strategies are presented from the traditional residential campus as well as the College of Adult and Graduate Studies.
CCCU 2017 Presidents Conference
2018 International Forum
January 31 – February 2, 2018
The Gaylord Texan
Dallas, TX
We're proud to serve our CCCU schools and are a platinum level sponsor of this event.
Will you be in attendance? Let us know and we'll look forward to meeting up with you!