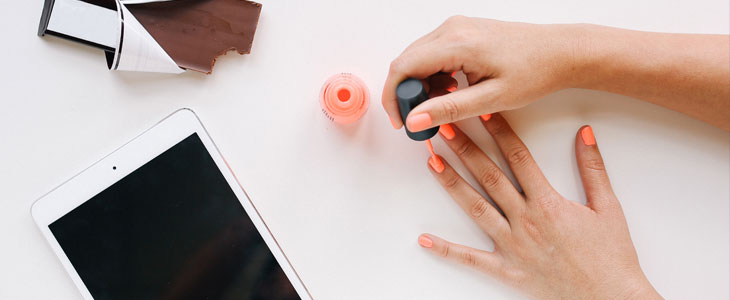 As a die-hard procrastinator, I am determined to give this life strategy the credit it deserves…
starting tomorrow.
Preaching to students about the dangers of procrastination has never worked for me — mostly because I embrace my own natural tendency to procrastinate. I decided long ago that sharing my strategies for taming and optimizing this habit is a much better use of my time. So instead of trying to convince students to start their work earlier, here are the five things I tell them that have helped me harness and optimize my gift of procrastination.
   Tell the truth about how much you love procrastination
Many of us are conditioned to feel ashamed of the fact that we procrastinate. I say that procrastination is either a skill that works for you or it doesn't.
If you aren't good at that last minute rush to get things done:
Do not do it.
On the other hand,
if you use high stress and deadline pressure to produce good work:
Embrace it.
Procrastination is a skill that can be developed, and perfected with work and dedication.
   Measure the Success of your Procrastination
The first step in refining your gift of procrastination is to objectively measure the outcome of situations in which you delayed completing something until the last minute. Ask yourself questions like:
"How did the project turn out?"

"Did I accomplish everything I needed to?"

"Did my last-minute approach cause anyone else stress or extra work?"

"What was the cost of my procrastination in areas like my health, or important relationships?"
By assessing these things, you can tweak your approach to minimize the cost and maximize the success.
   Think of it as a skill to develop and perfect
Once you have an objective understanding of how your procrastination affects you, your projects and those around you, you can begin to hone your skill. Perhaps this is a talent that is best deployed only in particular situations. You may learn that creating "Sprint" days, where you work rapid fire, to check off as many things on your list work better for you than trying to tackle your work in small chunks. Learn what motivates you and work in every project to become better and more strategic in how you apply procrastination as a tool.
   Recognize that others may not appreciate your gift as much as you do
Even if you love the way you work, others may not find it endearing as you do. Be considerate of how your mad dash affects others. You must be thoughtful about what your delay tactics costs those around you.
   Admit that the thrill of high-stress situations is addictive
Projects that end without the thrill of hard, quick paced, high stress work leaves me feeling empty. I enjoy the danger of moving closer and closer to the deadline with some uncertainty about my ability to finish everything I need to. There is something addictive about a late night scramble or frantic focused effort. Learning to use procrastination strategically will give you freedom to enjoy the excitement it brings!
Do you share a love for procrastination? Or does it drive you crazy?
Let us know in the comments below!