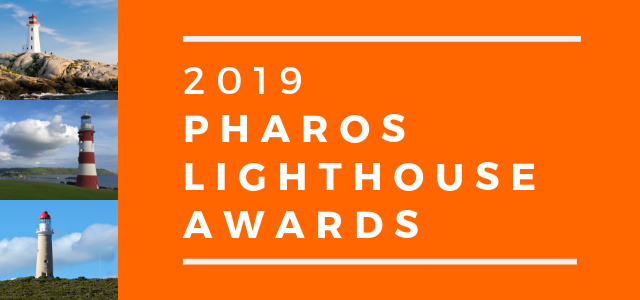 It's National Lighthouse Day!
Lighthouses have always inspired me. They have a profound and unique purpose that serve to safeguard the community, but are also created to be unique works of art, remarkable feats of engineering and to reflect specific cultures and communities.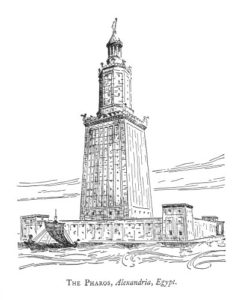 The first lighthouse was created in 280 B.C.–the great Pharos lighthouse of Alexandria, one of the seven wonders of the Ancient World! This is where we draw our name and company inspiration.
Today, Pharos Resources has been participating in #NationalLighthouseDay by sharing our team's favorite lighthouses and remarkable stories of lighthouse successes.
We are also taking this opportunity to recognize our annual Lighthouse Award recipients. We are recognizing three Pharos partners who have built incredible practices on their campuses to identify and engage at-risk students.
We are grateful for our relationships with our clients and the remarkable work they do everyday to support their students. We are honored to partner with each of you!
Please join us in congratulating the following Lighthouse Award recipients!
-Matt
---
2019 Pharos Lighthouse Award
Data & Applications Professional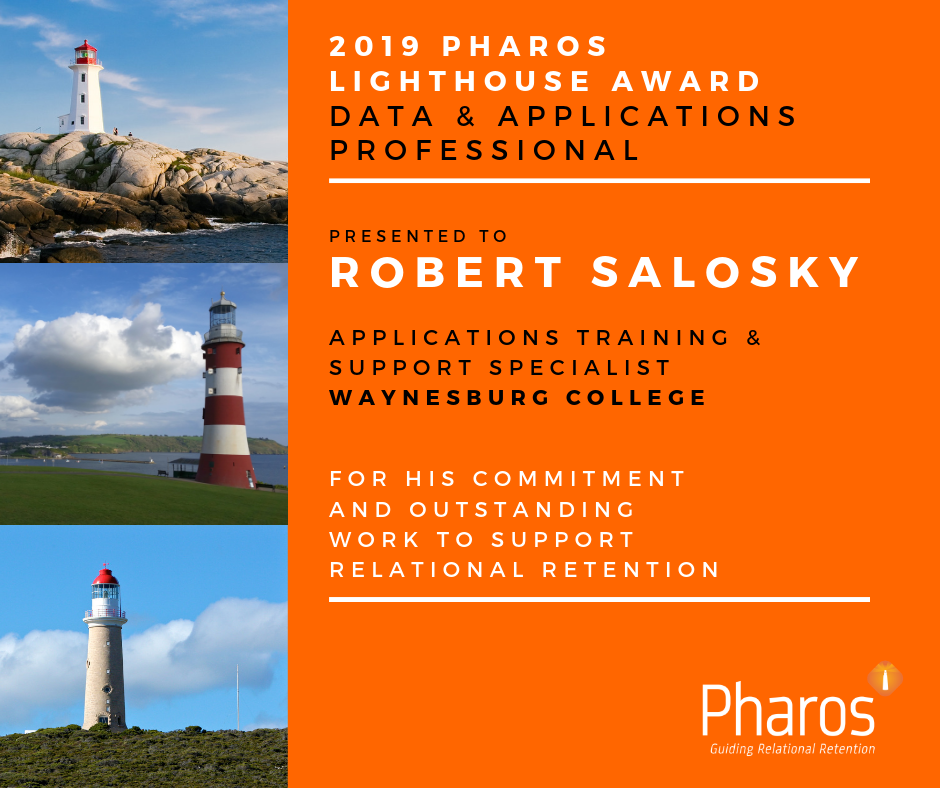 The School:
Waynesburg University in Waynesburg, Pennsylvania, has been recognized as one of the best colleges in the region and offers one of the most affordable private educations in the nation. They have been a Pharos partner for the past nine years. Brian Carr, Director of the Pathways Center, has been directing the Pharos 360 program on campus for the last seven years and has grown the program from a single-office initiative to broad campus-wide adoption.
The Recipient:
Robert Salosky, the Applications Training and Support Specialist at Waynesburg, became the point person for the Pharos data integration in April of this year. Brian has requested strategic reporting data be incorporated in the Pharos for several years but had no forward movement on the project.
Within two months of Robby being assigned to the project, this necessary Student Information System data was being sent into the system for the first time in our nine year partnership. As Brian said, "A lot of what (Robby) did was self-initiated. Once he inherited this EXTRA project, he could have sat on his hands…but he didn't." Because of Robby's commitment to the Waynesburg IT mission statement, specifically "Daily collaboration, communication, and timely delivery of services to our faculty, staff, students, and alumni," Brian, his team and the Waynesburg community are positioned to more easily identify their most at-risk students and to analyze the efficacy of their student support programs.
It is with great excitement and appreciation that we award Robert Salosky the 2019 Pharos Lighthouse Award–Data & Applications Professional. We celebrate his commitment and outstanding work to support Relational Retention.
---
2019 Pharos Lighthouse Award
Student Success Professional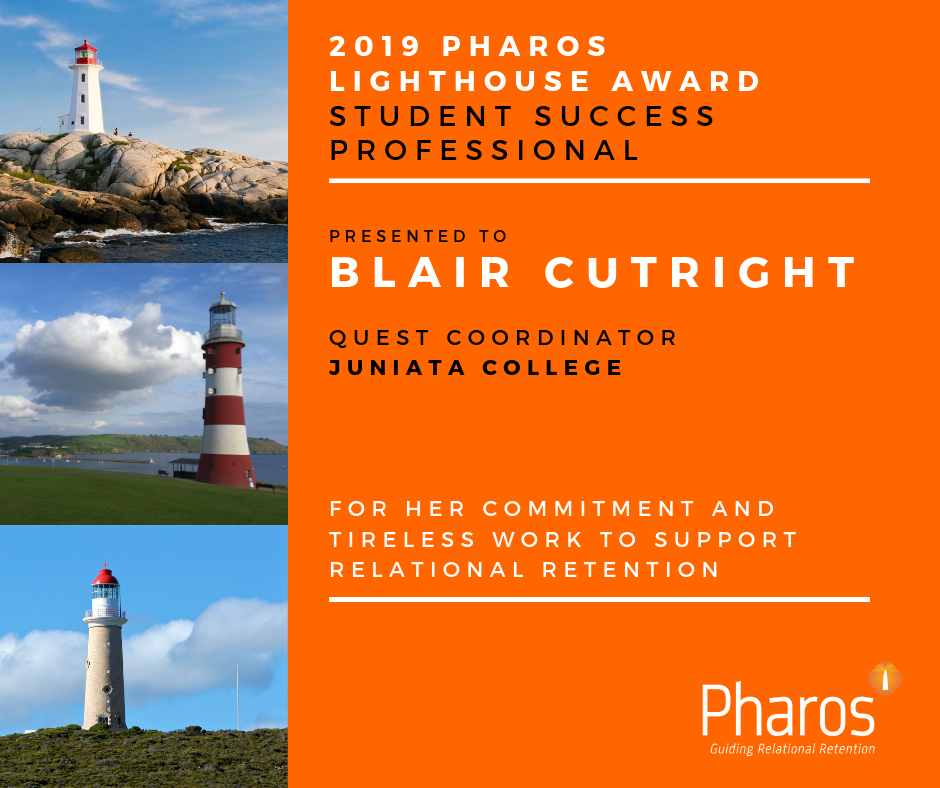 The School:
Juniata College is located in Huntingdon, Pennsylvania, and serves an undergraduate population of about 1,500 students. Juniata takes a non-traditional approach to college majors, allowing their students to design their own plan of study. In addition, students have two advisors: a primary advisor in their Program of Emphasis and a general advisor from another discipline who coaches students with a different perspective. The QUEST program, (Question, Understand, Explore, Seek, Transform) supported by Pharos 360 software, is a program that provides resources to students to help them succeed.
The Recipient:
Blair Cutright has held many positions at Juniata College. Originally hired as the Assistant Track and Field Coach and Resident Director in 2011, she transitioned to the Administrative Assistant to the Dean of Students in 2013 and then to the Quest Coordinator in 2017 while continuing to coach Cross Country and Track! In the two years that Blair has coordinated the Quest program, she has approached it with the commitment and tenacity that in her college days made her a successful athlete. As Dr. Matthew Damschroder, the Vice President for Student Life and Dean of Students, said, "It is so exciting to see Blair Cutright recognized for the retention and success efforts that ground her practice. Through direct support of students, and leadership of our care team and case management, Blair's work is essential to developing pathways and strategies where students overcome obstacles to persistence and meet their aspirations. Juniata's students and community are improved by Blair's vision and implementation of case management and communication best practices, which continue to emerge as she begins her third year as Coordinator of QUEST."
It is with great excitement and appreciation that we award Blair Cutright the 2019 Pharos Lighthouse Award–Student Success Professional. We celebrate her commitment and tireless work to support Relational Retention.
---
2019 Pharos Lighthouse Award
Institution of the Year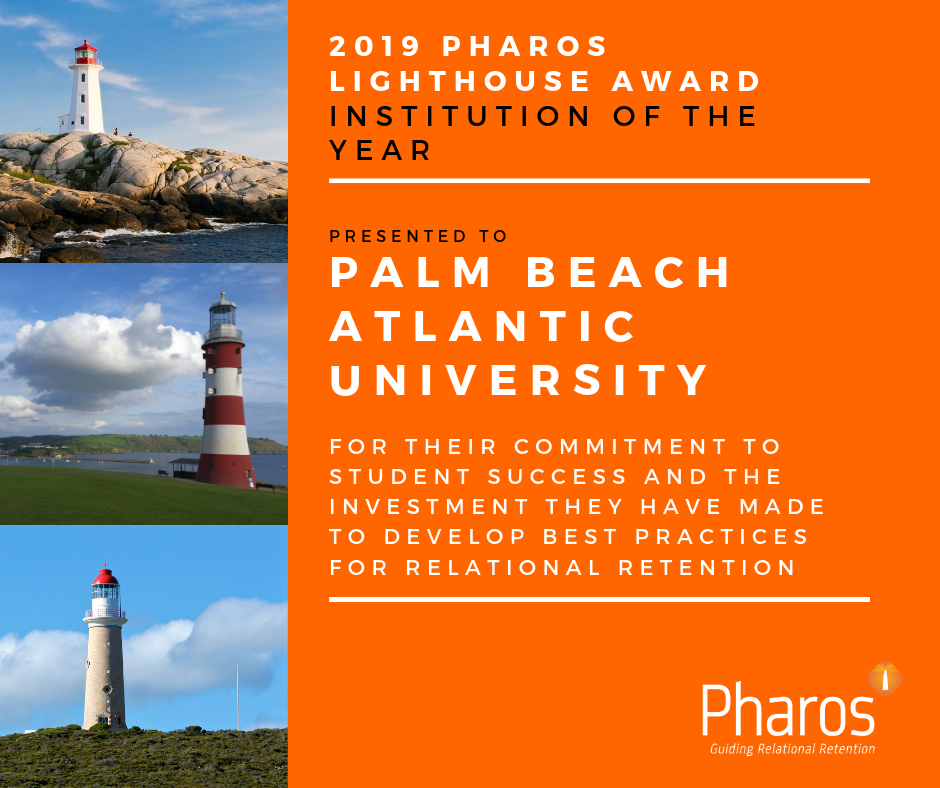 Pharos Resources' partnership with Palm Beach Atlantic University in West Palm Beach, FL started seven years ago at a CCCU Presidents Conference when President Bill Fleming met our President, Matt Boisvert. The two recognized in each other a shared passion for innovative and bold approaches to Student Success.
We formalized our relationship 2012 and the school of 3,800 students has been doubling down on their student support investments since. Development of programs such as their one-day orientation program, SOAR, The Bridges Scholars Program, Impact Leadership Team, and Discipleship assistants have all made a significant impact on Student Success. Waypoint, PBA's branding for their Early Alert program powered by Pharos 360, has helped the school increase focus on at-risk students and increase retention 11% from 2012-2018.
Palm Beach Atlantic is recognized as the 2019 Pharos Lighthouse Award– Institution of the Year because of their renewed excitement and investment they have made in the 2018 -2019 school year.
Pharos consultants have made two visits to the university, including a trip by President Fleming's invitation to address the Board of Trustees on retention issues. The cornerstone of this initiative is the tireless work of Bob Lutz, Dean of Students and Kate Magro, Assistant Dean of Students who are constantly investing in training staff and faculty, identifying the highest risk population of students, and providing touchpoint relationships and interventions to aid students in their struggles.
It is with great excitement and admiration that we recognize Palm Beach Atlantic University as the 2019 Pharos Lighthouse Award–Institution of the Year! We are grateful for the commitment they show to student success and the investment they have made to develop best practices for Relational Retention.